Where to Watch 100% Free and Legal Streaming Services for Movies, TV Shows, and More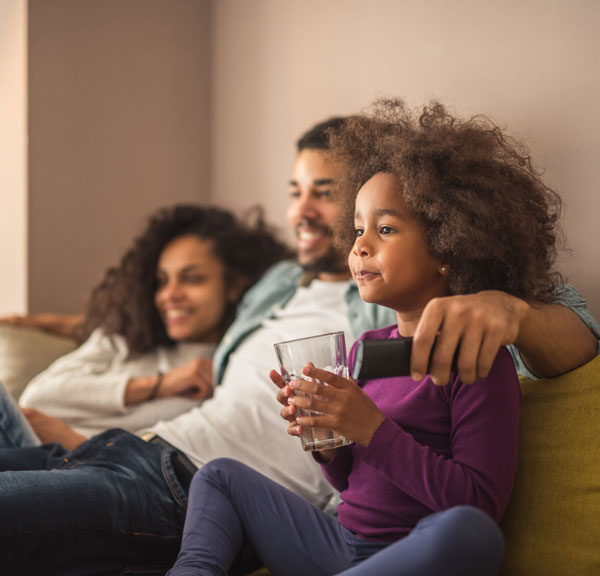 Streaming content over the internet has become the favorite pastime of hundreds of millions of people all over the world. Whether it's live TV, on-demand content, documentaries, just-released movies, music, or favorite television shows, the widespread availability of fast internet coupled with so many streaming services means your favorite content is never farther away than your smart TV or mobile device. Of course, not all streaming services are created equal. Some offer original programming you can't find anywhere else. Some focus on classic movies and TV shows. Some provide free tiers along with paid tiers, so viewers can design the exact viewing experience they want. Some sites offer free content but, because they lack the legal authority to offer the content on their site, they do so illegally, putting viewers at risk of legal trouble and malware in the process. Read on to learn more.
Categorizing Different Types of Streaming Services
Broadly speaking, there are two types of streaming services: free and paid. However, within those two categories are a myriad of other considerations, including: Is the content legal or illegal? Does the streaming service provide access to live TV streaming, including live news and/or live sports? Does the streaming service offer original content? How much is the paid service, and how do its pricing and offerings stack up next to other paid streaming platforms? Is the service ad-free? How safe is the streaming service for users?
We'll do our best to succinctly break it down for you.
The most popular free streaming services available
A legal and free streaming app, Crackle offers TV shows, movies, and other video content in an ad-supported app-based environment. Users aren't required to enter their credit card, and there's no email sign up either. If you do sign up with your email, however, you'll be able to save your progress in movies and shows, plus add content to your Watch Later list for later viewing.
Another free streaming service that has similarities to the Internet Archive is Kanopy. All you need to access the service is a library card or a university email address, and you can stream classic movies, independent films, documentaries, foreign films, children's programming, and more.
Plex is a free and legal streaming app that has over 50,000 on-demand titles in its catalog. It also offers some live programming. Users have to provide an email address, but that's all. It does offer paid subscription services as well. So if you want early access to new Plex features, discounts and deals from partners, DVR options, and more, you can sign up and pay for Plex Pass.
Pluto TV is an internet television service that is 100% free and legal. Owned by Paramount Streaming, the streaming service offers over 250 channels, including TV shows and movies. Pluto TV is ad-supported. One of its best features is that it offers channels centered on favorite and classic television shows, including a Classic Doctor Who channel, a Survivor channel, a Star Trek channel, a CBS News channel, and a Hell's Kitchen channel.
100% free and legal, Popcornflix is an internet-based streaming service that viewers can access without a credit card or email address. While the content offerings aren't as robust on Popcornflix as on some other free streaming services, fans of cult comedies and horror flicks will be pleasantly surprised by their offerings.
Retrovision
No longer available, Retrovision was a free streaming site that offered classic movies, including Westerns, Comedy, Cartoons, Horror, Sci-Fi, and more. Retrovision also offered classic television shows from the 1940s through the 1990s. Retrovision's demise is actually a good lesson regarding free streaming services: Not all of them last.
Sling Free is a free, legal streaming option from Sling TV that requires an email address to access but no credit card. It offers thousands of movies and TV shows, as well as some live news.
The Internet Archive is a non-profit that functions like a library. It's a collection of public domain resources and content, as well as an archive of the Internet. It provides access to tens of millions of digital books, music, audio files, web sites, videos, and more. Modern books that are not in the public domain can be digitally checked out through their Open Library.
The Roku Channel is Roku's streaming service. 100% free and legal, it offers ad-supported sports, news, TV, movies, and live content. All you need to access it is a Roku account. It's also available on almost any device, not just Roku devices.
YouTube has many free options. From how-to videos to free movies to a free audio library, YouTube remains one of the best free streaming options on the internet. They also have paid membership options for streamers who want a larger selection of content. Depending on the membership type you choose, you can get live sports, ad-free music and video, Fox, ABC News and other news channels, PBS, etc.
If you're looking to have access to channels or content that are only available via a paid subscription, YouTube TV does offer a free trial period. You will need to provide a credit card to sign up, and if you don't want to pay for the service, be sure to cancel your subscription before the free trial ends to avoid being charged.
Fast, easy streaming and downloading of your favorite films, television shows, music, books, and more can all be had without having to take the risks associated with illegal streaming sites. This list of free streaming services offers a wealth of options for legal entertainment, education, and enjoyment that can be had by anyone, anywhere, so long as they have access to the internet or a good mobile data plan.  
Find out more about where to watch your favorite programs and channels with StreamSafely. We have additional tools to help you find safe legal services on our Where to Watch page.
Or search the most popular movies:  
Streaming Devices that Can be Used to Watch Free and Paid Content
Whether you're wanting to access a free TV streaming service or streaming on-demand movies, you're going to need a Wi-Fi- or internet-connected device to do so. Here is a list of some of the most popular devices you can use to stream free and paid content from the internet:
FAQs
Is streaming copyrighted content illegal?
Streaming copyrighted content is not illegal if it's done so through a legitimate and legal site such as Tubi, Hulu, Peacock, Netflix, Max, etc. It is illegal to stream copyrighted content via streaming sites and platforms that do not have a legal right to share that content.
---
Is it legal to stream movies on Twitch or Discord? It's complicated. Both Twitch and Discord users must be accessing the movie via a legal site (i.e. Netflix, FuboTV, Quibi, Roku Channel, etc.) for the stream to be legal, but there are other rules in play, too. If watching with others, the watch party must be a "private" showing and not open to the "public". What's a private showing vs a public showing? Think of it in terms of how we used to watch movies. Watching a DVD at home with family or friends is a private showing. Watching a movie at a movie theater is a public showing.
---
Where can I watch live TV streaming? There are a lot of live TV streaming options available, including on-the-go options from cable TV companies and streaming services such as Max and Disney+. Other live TV streaming options include:
FuboTV
Hulu + Live TV
SlingTV
Philo
YouTube TV
---
How can I watch YouTube TV for free? To watch YouTube TV for free take the following steps:
Click the "Try It Free" button on the YouTube TV homepage. (There might also be a popup with a free subscription offer.)
Log in to your Google account.
Enter your zip code and select "Next".
Select any channels and/or add-ons and click "Next".
Enter your billing info and click "Start Trial".
Start watching YouTube TV for free!At the end of your trial period, your credit card will be charged, so if you don't want to start paying for a subscription, be sure to cancel before the trial period ends.