12.5 billion
U.S. economy loses
1,230,413
Identity theft reports
What is online piracy? Internet piracy occurs when an individual or organization streams, downloads, or distributes copyrighted materials. TV, music, software, and film piracy are federal crimes that can result in imprisonment if convicted.
Digital piracy accounts for significant revenue losses in the music, broadcast, publishing, and movie industries. Internet users are hungry for free content and are constantly looking for sources to enjoy their favorite TV shows, movies, songs, and more. However, in many cases, they are unaware of the harm piracy sites pose to the economy and their personal lives.
While the U.S. economy bears the brunt of the losses, many other countries and territories also feel the pain. That includes places like China, the United Kingdom, Indonesia, Brazil, Eastern, and Western Europe, etc., whose citizens and industries lose out on revenue each year from users streaming pirated content.
In addition to the internet piracy information listed above, here are a few more shocking piracy facts about illegal streaming and downloading in the movie, tv, and music industries.
An overwhelming majority of internet users (70%) believe there is nothing wrong with piracy websites and pirated content.
Slightly more than one-third of Gen Zers have used stream rippers to watch tv shows, movies, or download music.
Digital video piracy (i.e., illegal streaming, stream ripping, etc.) accounts for more than $50 billion in revenue losses for the global tv and movie industry.
Recent research suggests that piracy rates increased by 44% during the pandemic.
Illegal streaming services account for more than 80% of internet piracy.
TV, movie, and music piracy of copyrighted content accounts for nearly one-fourth of worldwide bandwidth.
U.S. citizens are the largest consumers of pirated content.
According to the Unholy Triangle Report, piracy operators are paid handsomely by the malvertisers for allowing access to their users – collectively, over $120 million a year.
Ransomware is a $20 billion annual scourge on consumers, small businesses, corporations, and non-profits. Even if a victim pays the ransom, there is no guarantee they will regain access to their data.
Malvertising accounted for 12 percent of the total ads on piracy sites, generating a minimum of $121 million annually in revenue. More than half of that, $68.3 million, came from U.S. visits to these sites. Malvertising accounts for roughly $1 out of every $4 these illicit actors make in advertising revenue.
World Wide Data
Online piracy is not limited to North America. It is a global phenomenon with significant implications for the economy, the job market, and many industries. Listed below are a few worldwide piracy facts to keep you informed:
The U.S., Russia, China, and India lead the world in the number of yearly visits to media piracy sites. Combined, they made over 33 billion visits to piracy sites in 2020.
Pirated videos (i.e., TV series, movies, etc.) accumulate more than 230 billion views per year.
Roughly one-third of all music streamers and downloaders admit to listening to pirated music.
Bangladesh, Pakistan, and Indonesia are hotspots for internet piracy. They have piracy rates of unlicensed software above 83%.
According to a BSA Global Software Survey regarding software piracy statistics, roughly 16% of all computer software was unlicensed in 2018.
Streaming sites account for more than half of pirated content on the internet.
Number of visits to media piracy sites worldwide in 2020, by country (in billions)
Online TV and movie revenue lost through piracy in 2022, by country (in billion U.S. dollars)

Leading countries for the highest number of visits to music piracy sites worldwide in 3rd quarter 2021 (in million)

Historical Data
The use of illegal file-sharing, stream ripping, and unlicensed software is nothing new. According to data provided by Statista, revenue losses resulting from piracy have grown by more than 500% from 2010 – 2022.
TV series and movies are not the only pirated media. Digital piracy data insights provided by MUSO show that sites with pirated digital publishing content (i.e., e-books, audiobooks, magazines, etc.) have seen the most significant growth in recent years (58.5% increase).
Global online TV and movie revenue lost through piracy from 2010 to 2022 (in billion U.S. dollars)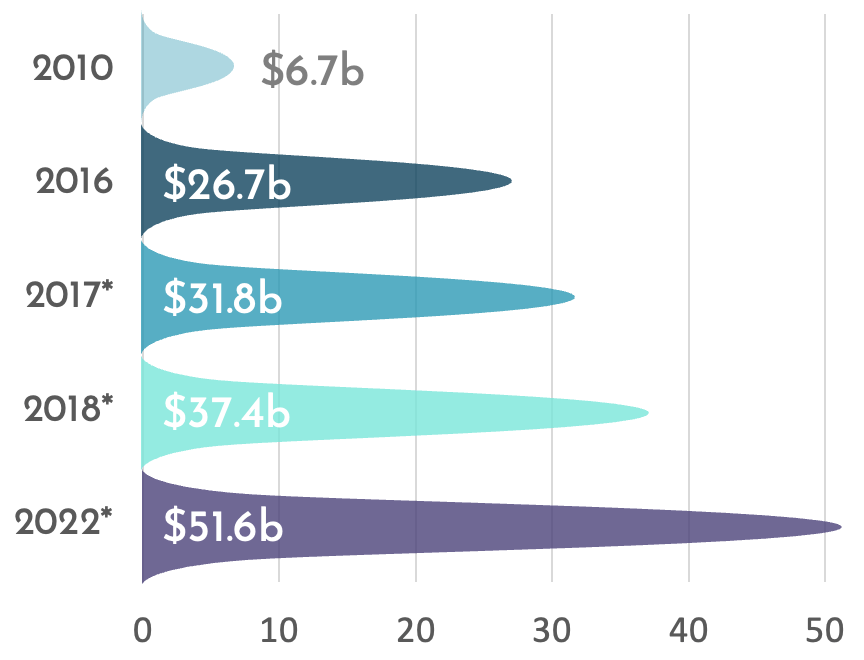 Impact on US Economy
U.S. citizens are among the largest consumers of pirated content. Consequently, the U.S. economy suffers the most from the consumption and distribution of pirated movies, TV-series, music, etc. That's especially true for publishers, production companies, and the like that are most vulnerable to digital copyright infringement.
However, Americans are not the only culprits. Billions of hours of pirated content are viewed outside of the country every year, which indirectly harms sales, hiring, and competitiveness in media. Learn more about the impact of online piracy on the U.S. economy below.
There are more than 26 billion viewings of U.S.-produced TV shows and 126 billion viewings of U.S.-produced movies pirated annually. The majority of these viewings occur outside the U.S.
Recent research suggests that the U.S. GDP experiences a reduction of roughly $47.5 billion to $115.3 billion annually due to online piracy.
$47.5b - $115.3b
GDP Reduction
$12.5 billion
Losses Annually
Piracy in the music industry accounts for $12.5 billion in losses annually and 71,060 lost jobs.
$2 billion +
Piracy Industry
223k - 541k
Annual Job Losses
Some estimates indicate annual job losses resulting from pirated content are between 223,000 and 541,000.
Cyber Crime
Piracy is Theft
Online piracy and armed robbery seem very different on the surface. However, individuals convicted of either crime, potentially, face similar penalties: felony criminal record, imprisonment, fines, probation, and more. According to federal laws, online piracy is considered theft. It is punishable by up to five years imprisonment (perhaps more) and $250,000 in fines.
Cyber crime categories that were reported most often in 2021, by number of victims
Global online TV and movie revenue lost through piracy from 2010 to 2022 (in billion U.S. dollars)
Global number of cyber security incidents from November 2020 to October 2021, by industry and organization size
Amount of monetary damage caused by reported cyber crime to the IC3 from 2001 to 2021(in million U.S. dollars)
Identity Theft
Publishing, movie, music, and TV piracy are not only economic risks but also pose a significant personal risk for users of pirated content. Individuals who stream or download copyrighted materials from illegal streaming sites are vulnerable to vicious cyber attacks resulting in identity theft.
1.4 million
Documented Reports
According to the Federal Trade Commission (FTC), there were more than 1.4 million documented reports of identity theft in the U.S. in 2021.
Identity theft accounted for more than $50 billion in losses for American households.
$50 billion
Losses in US Households
15 million
Identities Stolen
40 million
Identity Theif Victims
Recent research suggests that an estimated 15 million U.S. citizens had their identities stolen, and roughly 40 million citizens were victims of identity thieves in 2021.
Nearly eight out of ten pirate sites investigated served up malware-ridden ads to their users.
8 out of 10
Had Malware-Ridden Ads
1 out of 6
Visits Risk Getting Malware
According to the Unholy Triangle report, while not every visit to a piracy site results in malware, the investigation found that on average 1 in 6 times, a visit to a piracy site leads to an attempt to serve malware to the user.
Nearly 1 in 5 Americans have faced an attack on their personal or work device. Most recover only about 65 percent of their data on average.
1 in 5
Face Device Attacks
42 seconds
For an Advanced Persistent Threat
78 seconds
To Infect an Android Device
Number of consumer complaints relating to identity theft lodged with the U.S. Federal Trade Commission from 2001 to 2020
Dangers of Digital Piracy
Illegally downloading or streaming copyrighted materials may seem like a cost-effective way to consume your favorite media. However, there are many hidden costs associated with online piracy.
They include but are not limited to exposure to age-inappropriate content, malware infections, phishing scams, cyber fraud, and more. Consuming pirated content can also have a direct impact on your finances through fraudulent purchases. The Digital Citizens Alliance, a nonprofit organization that focuses on educating consumers about threats they face online, noted that 72% of Americans who used a credit card to purchase a piracy subscription service reported fraud issues afterwards (compared with 18% who don't use pirate sites). Those who use piracy sites and apps are also four times more likely to be victims of identity theft, as 44% of those users faced this issue vs only 10% of users who consume content from safe and legal sources. Overall, the effects of viewing pirated content can last long after the content is downloaded or streamed.
In the next section, learn how you and your family can protect your identity, financial accounts, and privacy by streaming safely.
When asked, a group of survey respondents who infringed and illegally streamed claimed they had experienced these hidden horrors:
50%
were exposed to age-inappropriate content
There are no parental controls with pirated content and explicit adverts may appear anytime.
50%
had their devices infected by Malware
Many of these illegitimate sites can install viruses onto your family's devices. These viruses, also known as malware or malicious software, can spy on your digital activity, lock your device until a ransom is paid or give hackers access to your device.
Criminals use illegal streams, sites and downloads to try and hack into devices and obtain your private passwords.
How to Keep Your Family Safe
As much as 33% of all pirated content contains malware. That means streaming or downloading even one movie, TV series, e-book, song, etc., can result in an attack on your PC. Malware attacks can crack your passwords, spread through your home network, redirect you to malicious websites, and worse.
Not only can a malware attack infect your family computers, but it can also wreak havoc on work devices. With that in mind, here are a few steps to help keep your family safe from the negative effects of pirated content:
Ensure your parental controls are working.
Use a strong password.
Update your malware and antivirus software.
Educate your children about the importance of communicating with you when something doesn't look right on their computer, phone, or tablet.
Protecting Children
Keeping your children safe from pirated materials is essential to protecting your family's technology, privacy, and finances. Listed below are six safe streaming steps you can take to protect your children:
Ensure your software and hardware are secure.
Avoid clicking on suspicious or unreputable links.
Stay away from piracy websites and stick to trusted content providers.
Don't share your passwords with anyone.
Don't use a free movie or tv show platform unless you've done your research.
Go over internet safety rules and protocols with your family periodically.